Investors' decisions – both conscious and subconscious – have an important bearing on their long-term wealth. It is often said that "perception is reality."
When we make decision on our money or investment options our decisions can be heavily influenced by our past experiences, our belief system and by the information we choose to focus on. Successful investing can be hard, but it does not require you and me to be genius. In fact, Warren Buffet once quipped "success in investing does not correlate with IQ." Successful investing requires the ability to identify and overcome one's own psychological weaknesses.
In this article, we will prefer to focus on how to benefit from the power of compounding.

Compounding isn't a new concept – many of us will remember studying it back in our school days. Legendary scientist Albert Einstein famously called it 'the most powerful force in the universe', while American business magnate John D Rockefeller suggested compounding is the 'eighth wonder of the world'. These might sound like bold claims, but the power of compounding on an investment portfolio should certainly not be underestimated.
What is compounding?
In simple terms, compounding is the process whereby returns made on an investment are reinvested in order to generate subsequent returns of their own. To benefit from compounding you need to follow rules;
You need to be perseverance to save regularly. It might become hard at times when short term temptation triggers spending where self- discipline plays an important role
You need to know which investment option helps you get better outcome from
Allocate time. You need to be patient, as compound works through time.
The concept of compounding is best illustrated using an example. Twines Annie and Jane both allocated $10,000 to the same interest-bearing investment on their 25th birthday. For simplicity, let's assume the investment pays interest of 5% per year.
Annie reinvests all of her interest every year, while Jane banks the $500 each year and spends it on everyday living expenses. Let's see how their investments had fared by their 45th birthdays.

Jane earned $500 interest each and every year for the 20 year period – a total of $10,000. Of course, she still had her original $10,000 investment as well.
Annie, on the other hand, saw her investment grow to more than $26,000 by reinvesting her interest. The additional $6,000 she earned over and above Jane highlights the power of compounding. You can see from the table that Annie's investment is now earning her $1,263 per year, while Jane's investment is still earning her only $500. This differential would continue to grow over time if the sisters remained invested.
Make compounding work even harder for you
The power of compounding can be magnified if you make small regular contributions to your investment. The long-term performance impact of compounding can be significant and must not be overlooked by investors.
These examples highlight how compounding and contributing regularly to an investment can have a major influence on investment performance. The long-term performance impact of compounding can be significant and must not be overlooked by investors. Perhaps Einstein and Rockefeller were right, after all.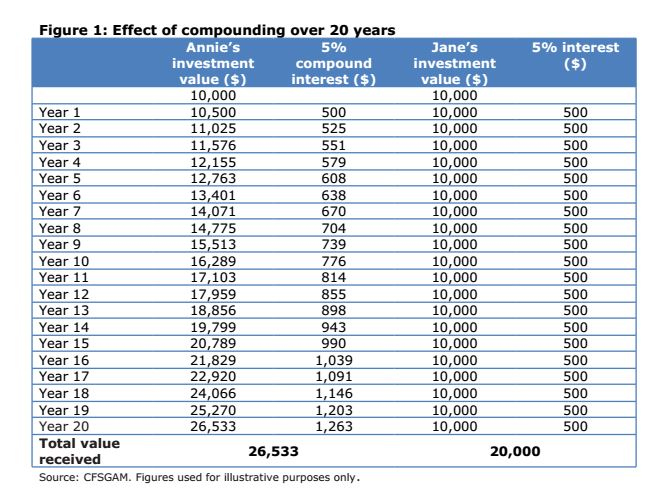 DISCLAIMERS
This document has been prepared by HQ Financial Solutions, an Authorized Representative of Lifespan Financial Planning Pty Ltd ABN 23 065 921 735,AFSL No.229892 based on providing for information purpose only. Accordingly, reliance should not be placed on this material as the basis for making an investment, financial or other decision. While all care has been taken in the preparation of this document (using sources believed to be reliable and accurate), to the maximum extent permitted by law, no person including HQ Financial Solutions, Halle Yilmaz or Lifespan Financial Planning Pty Ltd, accepts responsibility for any loss suffered by any person arising from reliance on this information. Before acting on this material, you should consider its appropriateness, having regard to your financial circumstances and needs, and talked to a specialist in that field.
Halle Yilmaz is a financial adviser and business consultant. As a financial adviser, she gives solid advice that can create rapid and lasting results for her clients. Sign up for her free E-Book and download "7 Steps to Healthy Wealth Management."