We all know how important it is to receive regular income especially when you cannot go to work due to illness or injury, yet still have to pay for your living expenses such as mortgage, rent, utility bills, school fees and generate savings to meet future financial goals.
Income protection (IP) insurance is an important safeguard to protect your ability to earn an income in the event of disability, sickness, or injury that stops you from working. An IP cover provides you with a monthly income up to certain percentage which is currently 75% of your before tax income if you become totally and partially disabled due to an illness or injury. The waiting and benefit periods are predetermined between you and the insurer. Under current market conditions the benefit periods start from 2 years to up to age 70 and in general premiums are tax deductible under ownership structure.
However, the changes enforced as the industry standard by APRA will have a major impact on those who are seeking IP insurance, or for existing income protection policy holders who are considering making changes to their existing cover. The new IP product settings are coming into effect on 1 October 2021 and this article explains the key changes that will take place soon.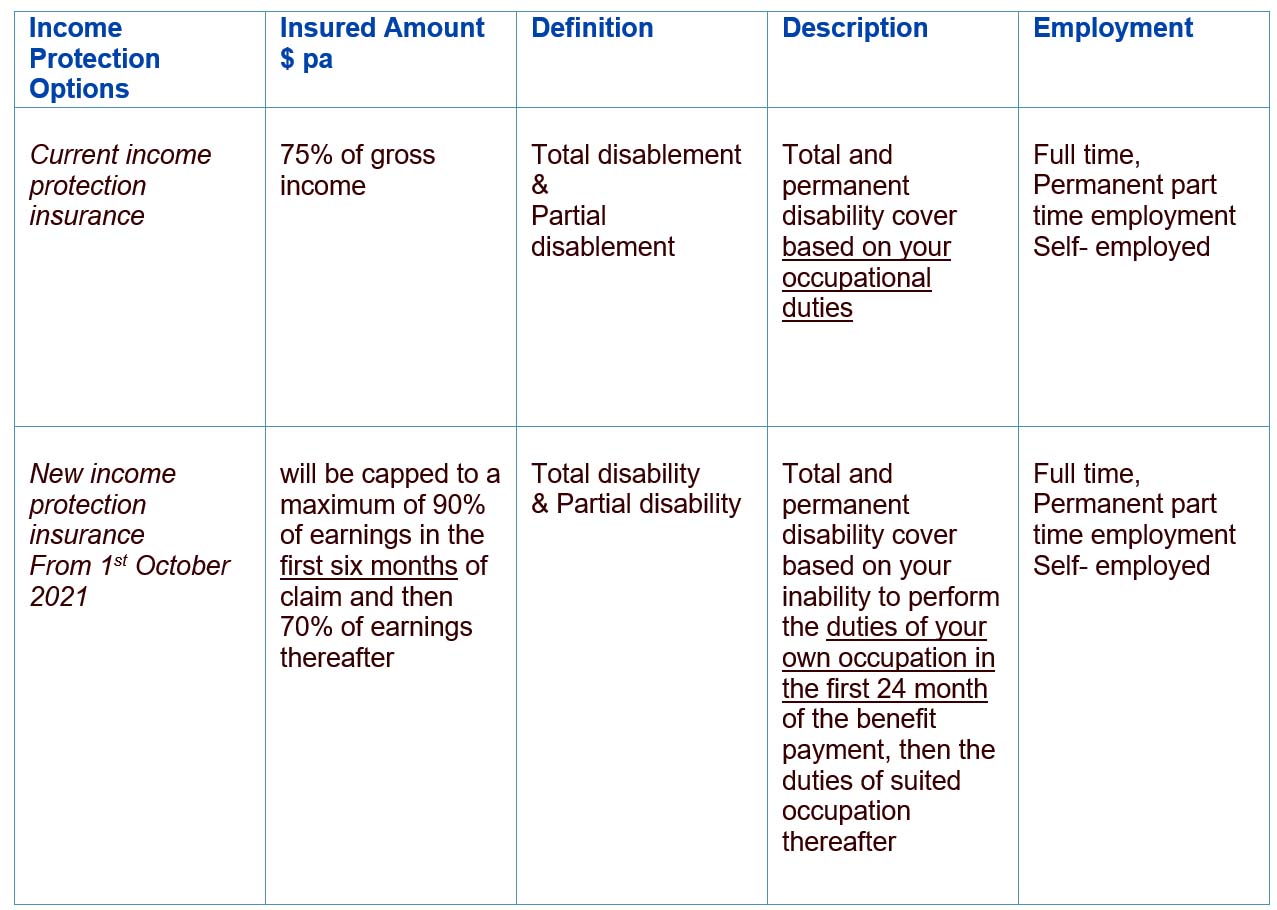 Moreover, from 1 October 2021, it's expected insurers will offer income protection policies with the following changes:
Policies with long term benefit periods (typically to age 65) instead up to 70 and having a stricter disability definition for longer benefit periods.
For those of you with predominantly stable income, income should be based on annual earnings at the time of the claim event, not older than 12 months. This means that current indemnity IP policies that base benefits on the highest 12 months' earnings in the two or three years prior to claim will no longer be available.
However, for those of you whose income is variable (e.g., if you are self-employed or business owner), the insured income should be based on the average annual earnings over a period of time (can be longer than 12 months).
Policy contract term – IP policy terms will not be like the current ones. They will have to not exceed five years. After the five-year period, a new policy must be entered into that reflects the terms and conditions that apply to new contracts then on offer by the life company.
On the other side, it is important to note that some of the key features remain the same, such as:
Premiums are generally tax deductible under ownership structure
Upon claim, monthly benefit payments are taxed at your marginal tax rate and payments are considered 'ordinary income'.
In the event of any claim, your claim payment will be calculated based on your actual Income in the 12 months, or last financial year, prior to the claim. If your income has reduced since you originally started your policy, this may mean that the benefit you receive in the event of a claim will be less than your Sum Insured. Alternatively, if your income has increased since you originally started your policy, and you have not updated your Sum Insured to reflect this, the benefit you receive in the event of a claim will be capped by your Sum Insured and accordingly will not be reflective of the increase to your income. It is important therefore to regularly review the suitability of your current Sum Insured. Your financial adviser will be able to support you with this process.
Income protection cover is a complex insurance cover, and each insurers offer and definition may vary.
Should you want to review your current income protection cover, or find out how you can get the right income protection cover that suits your needs and circumstances, contact us now.


DISCLAIMERS
This document has been prepared by HQ Financial Solutions, an Authorized Representative of Lifespan Financial Planning Pty Ltd ABN 23 065 921 735,AFSL No.229892 based on providing for information purpose only. Accordingly, reliance should not be placed on this material as the basis for making a financial or other decision. While all care has been taken in the preparation of this document (using sources believed to be reliable and accurate), to the maximum extent permitted by law, no person including HQ Financial Solutions, Halle Yilmaz or Lifespan Financial Planning Pty Ltd, accepts responsibility for any loss suffered by any person arising from reliance on this information. Before acting on this material, you should consider its appropriateness, having regard to your financial circumstances and needs, and  talked to a financial adviser in that field.
Halle Yilmaz is a financial adviser and business consultant. As a financial adviser, she gives solid advice that can create rapid and lasting results for her clients. Sign up for her free E-Book and download "7 Steps to Healthy Wealth Management."